At 40+ expecting twins, I wanted to be prepared, so I researched the heck out of my baby registry. Now that my boys are almost two years old, I can look back with a bit of perspective and analyze what I did well and what I wish I had known going into the parenting journey.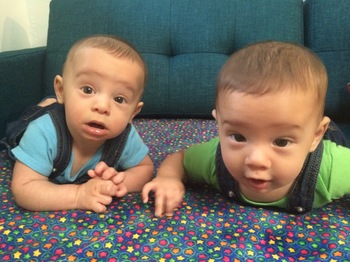 First, I recommend having your baby shower at least two months in advance of your due date. So many women wait until the last minute, but you might well give birth early. Even if you don't, you'll want plenty of time to organize all the goodies that you will be getting.
Second, I highly recommend using babylist for your registry because it allows you to select items from any website — as opposed to say, Amazon or Babies R Us, where all your products have to come from that one supplier.
I will be doing a series of blogs on some of my favorite items. Today, a simple, yet fantastic DVD/ download…
Baby Care 101 Video
I have been a "kid person" my whole life. I started babysitting at age 12 and was even an au pair one summer to a four-month-old.
Point being, I thought I knew babies.
Turns out caring for a newborn — a baby under three months of age who is still technically supposed to be in the womb—is very different from taking care of an older baby or toddler.
Sure, there are literally hundreds of books you could read on the subject of baby care. Some of them, like What to Expect in the First Year, are fantastic. But it is so helpful to see the techniques demonstrated. Classes are terrific, but they can prove expensive and time-consuming, and aren't available everywhere.
Lucky for you, two former nurses and the co-founders of LA's favorite mommy shop The Pump Station have created a feature-length video packed full of tips on every subject you need to fully prepare for your new arrival: holding, swaddling, babywearing, breastfeeding, pumping, bathing, diapering, sleeping tips, tummy time, using a car seat, and so on. It's available online or as a DVD.
This is exactly what most of us expecting moms need to feel confident and in control when our screaming beauties come home from the hospital. I can't recommend it highly enough.