This is the second in a multi-part series about items for your baby registry. Find part one, a review of the Baby Care 101 Video, here.  I'll briefly state again that 1) You should hold your baby shower at least two months in advance, as twins almost always come about a month early, and 2) Use babylist, which allows you to register for items from any website (not just, say Amazon or Babies R Us).
The Mamaroo Infant Swing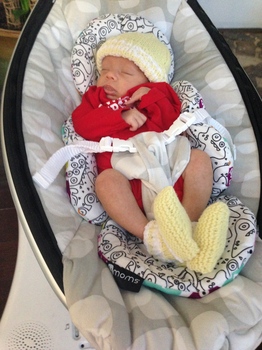 This "space pod," as my husband and I called it, is the latest and greatest in baby swing technology. It moves in six different directions, plays a variety of white noises from the built-in speakers, and has an attachment for your iPad/iPhone. And from age three months on, my boys loved staring at the mobile that dangles overhead.
Does it work? Yes! I called it the miracle chair. I used it every single day from age zero to six months. It was, without question, the best, safest, happiest place where I could stow my babies while I used the bathroom or cooked a quick egg for breakfast. We'd also put the babies to nap in the swings during the day, though our night nurse warned us to keep them sleeping in their cribs at night so as not to spoil them for life.
We asked for two on our baby registry, cause, well, you really need two when you have twins. You have to be able to stow both babies, and if you're alone with your infant twins, I am telling you, the swings will save your life.
The downside? These things are bloody expensive. I think our friends paid $180 each for ours two years ago, though I just found them listed for $160 at Target (and a whopping $270 on the 4Moms website!) Also, FYI, I did sell them on craigslist after the boys outgrew the weight restriction, at about six months, for $80 each. Not bad.
So, is it worth it for the fancy movement and built-in white noise when most people already have white noise machines or apps on their smartphones, and when you can get a very basic infant swing/rocker for about $50 from Target or Amazon? Maybe. I'd say if you have a few friends or family members you know really want to get you the Cadillac of baby gear, then go for it and register for these miracle space pods. But otherwise, know that your babes will probably do just fine in the more basic models.
One thing is for sure, though: YOU WILL WANT TWO SWINGS. Trust me on this one!